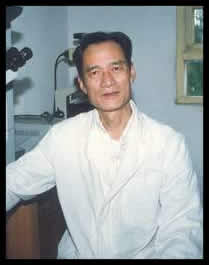 Li-Ming Shi (1939-12 to 1994-05),born in Leqing county, Zhejiang province, the third president of KIZ from 1984-1994, was one of the most famous members of CAS and a respected cytogeneticist.
Shi was the member of Academic Degrees Committee of the State Council; the member of committee of the National Center for Science and Technology Evaluation; the member of China National Committee for Terms in Sciences and Technologies, Division of Genetic Terms; the member of National Natural Science Awards Committee; the member of Committee of the Academic Division of CAS, and Executive Committee of the Academic Division of Life Sciences and Medicine; the member of the 4th committee of Chinese Communist Party, Division of Yunnan Province; the delegate of the 14th National Congress of Chinese Communist Party; the member of the 5th Yunnan Committee of Chinese People's Political Consultative Conference. He played multi-roles for several national and provincial life science societies and communities as chairman, secretary, committee member and also severed as editor-in-chief, associate editor-in-chief and editorial member for many biological journals.
Shi joined KIZ after he graduated from Biology Department of Fudan University. Shanghai. He was best-known for his achievement on animal origin and chromosome evolution and his research were focusing on the cytogenetics, genetic toxicology and radiation cytogenetics of eukaryotic cells, which mainly includes the chromosome structure and function, karyotype evolution and Meiosis. Shi founded the first wild animal cell bank and he was also the principal investigator of the key lab of the Cellular and Molecular Evolution, the prominent national research center. His devotement gave him a long list of publications and won him a lot of prestigious awards, prizes and honors: National Sciences Awards, National S&T Awards,Yunnan S&T Awards, Prizes for Young Scientists of China, Prizes for Outstanding Young Scientists of Yunnan, etc.
Besides of his academic achievements, Shi also showed his talent of leadership. Under his direction, KIZ launched knowledge innovation, went through difficulties, achieved significant progresses both in scientific research and in other institutional wide businesses and also got international recognition. Li-ming Shi, for his excellent academic and leading capacity, great personality power, was and will always be respected and honored by everyone.