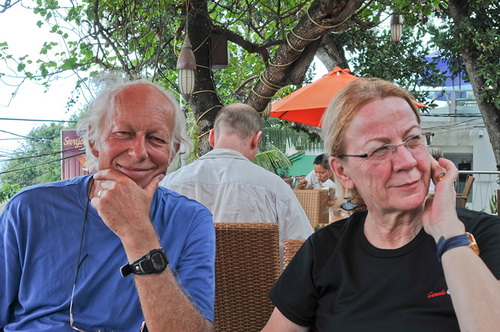 Sponsored by the program of Chinese Academy of Sciences Visiting Professorships for Senior International Scientists, the three months collaboration between Prof. Richard Winterbottom and Kunming Institute of Zoology, the CAS (KIZ) has began from November 16, 2012. During the visit, Prof. Winterbottom will work closely with the Phylogenetics and Biogeography research group of the State Key Lab of Genetic Resources and Evolution.

Prof. Winterbottom, currently a Curator Emeritus of Ichthyology at Royal Ontario Museum and a cross-appointed professor in the Department of Ecology and Evolutionary Biology at the University of Toronto, has been known for his devotion in evolutionary biology and ichthyology. His long-term interests also include fish fetal development, aging, growth and genetic varieties. By combining ichthyology comparative anatomyand genetics with systematic evolution, his research has covered several individual fresh water and marine classification groups.
Based on Prof. Winterbottom's outstanding contribution to systematic ichthyology, he is the 2006 Gibbs Award winner of American Society of Ichthyologists and Herpetologists, and up to date, 10 fishes have been named after him. His achievements also make him the member of the editorial board of several peer-reviewed journals, such as Systematic Zoology, Journal of Ichthyology and Aquatic Biology, Canadian Journal of Zoology.   
During the following three months, Prof. Winterbottom, together with his colleagues in KIZ, will focus on the evolution background research of specific fish groups and the species divergence mechanisms, as well as the connections between Qinghai-Tibet Plateau uplift, water system variance and other historical geography events. Meanwhile, his collaboration with KIZ allows him the opportunity to train graduate students and young researchers, as well as contributing to the institute's academic program.