The first annual project workshop towards "A sustainable future for the Chinese giant salamanders" was held in Kunming Institute of Zoology, China from January 23rd to 27th, 2013. Hosted by Dr. Che Jing, head of the Herpetological Biodiversity and Evolution research group, the workshop welcomed 10 project partners from the Zoological Society of London (ZSL), Shaanxi Normal University, Guiyang University and the Kunming Institute of Zoology.
This project, led by IoZ's Andrew Cunningham and funded by the UK government's Darwin Initiative, aims to provide sound scientific evidence to conserve the Chinese giant salamander (CGS) and its habitat. The CGS is a national treasure of China and can be regarded as the "freshwater panda". However, wild CGS populations have experienced 80% declines since the 1950s and this species is currently listed as 'Critically Endangered' by the IUCN.
To conserve the remaining wild populations, which are at the brink of extinction, ZSL has initiated a collaborative CGS conservation programme, entitled "A sustainable future for the Chinese giant salamanders", with a group of organisations in China, each with a specific and equally important role to play. Dr. Che Jing and her group, Kunming Institute of Zoology, will conduct CGS population genetics to provide scientific guidance for future ex situ conservation breeding and re-introduction programmes; Professor Wei Gang and his colleagues, Guiyang University, will conduct field surveys to better understand the current distribution and abundance of this species in the wild; Professor Wu Minyao and his group, Shaanxi Normal University, will investigate disease threats to the CGS both in the wild and from the large and growing CGS farming industry.
In addition to reviewing work plans, roles and responsibilities, Sarah Thomas from the Discovery and Learning department of ZSL trained participants in CEPA (Communication, Education and Public Awareness) in order to maximize the conservation impacts of this project in China. Staff from the Yunnan Science & Technology Museum also attended this training and both sides discussed to arrange an educational display about the project in this museum. During the workshop, Carly Waterman, ZSL's EDGE Programme Manager, conducted skills audits of all of the project EDGE Fellows and ensured they had feasible but challenging work programmes.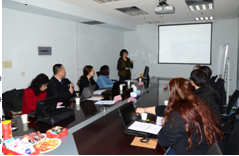 Discussion at the workshop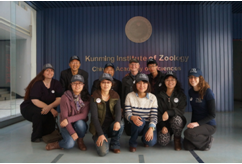 Workshop participants