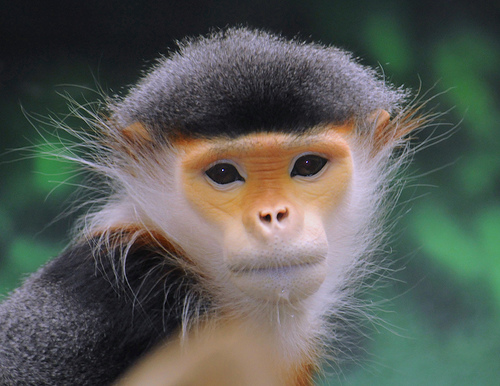 Figure. Picture of Pygathrix nemaeus
Pancreatic RNase genes implicated in the adaptation of the colobine monkeys to leaf-eating have long intrigued evolutionary biologists since the identification of a duplicated RNASE1 gene with enhanced digestive efficiencies in Pygathrix nemaeus. The recent emergence of two contrasting hypotheses, i.e., independent duplication and one duplication event hypotheses, make it into focus again.
Current understanding of Colobine RNASE1 gene evolution largely depends on the analyses of few colobine species. Based on more intensive taxonomic and character sampling, Yaping Zhang at the Kunming Institute of Zoology, the Chinese Academy of Sciences, and Li Yu at the Yunnan University provide a clearer picture of Colobine RNASE1 gene evolution.
Their studies yielded two important findings: (1) All trees based on the analyses of coding, noncoding and both regions provided consistent evidence indicating RNASE1 duplication occurred after Asian and African colobines speciation, i.e., independent duplication hypothesis; (2) No obvious evidence of gene conversion in RNASE1 gene was found, favoring independent evolution of Colobine RNASE1 gene duplicates. The conclusion drawn from previous studies that gene conversion has played a significant role in the evolution of Colobine RNASE1 was not supported.
In addition, the selective constraint analyses also provided significant evidence of positive selection on ancestor lineages leading to duplicated gene copies. The identification of a handful of new adaptive sites and amino acid changes also provide a necessary foundation for further experimental investigations of RNASE1 functional evolution in Colobinae.
Yu L, Wang XY, Jin W, Luan PT, Ting N, Zhang YP. Adaptive evolution of digestive RNASE1 genes in leaf-eating monkeys revisited: new insights from ten additional colobines. Mol Biol Evol. 2010 Jan;27(1):121-31.