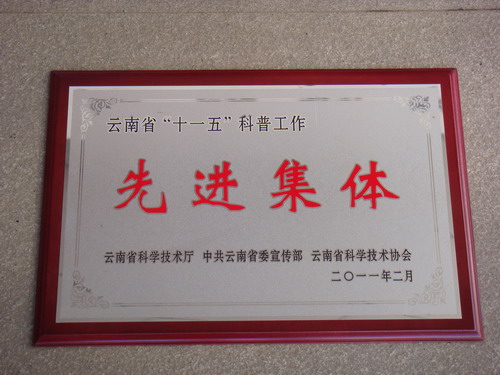 On March 1, 2010, the Yunnan Provincial Science and Technology Hall, the Provincial Party Committee Propaganda Department and the Provincial Association for Science and Technology (YúnKēFǎFā­ (2011) 5th) jointly issued a statement declaring that the Kunming Natural History Museum of Zoology be awarded the title of "advanced group" for its work on improving public awareness of science during Yunnan Province's "11th Five-Year Plan."
Since its opening, the Kunming Natural History Museum of Zoology has aimed to raise our citizens' scientific knowledge and to promote scientific development. Over many years, by relying on the Kunming Institute of Zoology, the museum carefully developed a plan, worked closely with the Chinese Academy of Sciences (CAS) during "Scientific Technology Week" and "National Science Day", developed activities to promote science, strived to raise citizens' scientific knowledge and produced important contributions within the Yunnan Province as well as nationally.
Since the beginning of 2011, the museum has been organizing various exhibitions, seminars and lectures in several big parks, updating scientific content, submitting relevant press releases, and creating a good environment for "revitalizing Yunnan with Science and Education". In the future, we will continue to persist, dare to innovate, craft a reputable image, and unceasingly produce new scientific achievements.