Vote results of "2013 Top Ten Technology Advances in Yunnan Province" were announced on February 18, 2013. The breakthroughs in "Evolution of Asian populations" made by Prof. ZHANG Yaping's research team (Kunming Institute of Zoology, CAS) were awarded with the honor.
The "Out of Africa" migration and evolution of the ancestors of modern human is the key to understand the human being's successful survival and production. By basing on the distribution patterns and formation mechanisms of genomic diversity, and by focusing on the Asian people, Prof. ZHANG Yaping's research team has approved that the early population migrations and cultural diffusion were the pivotal factors in the formations of Asian populations. These results have systematically enriched our knowledge in the evolutions of Asian population and have provided genetic evidence to interpret the mechanisms of human to adapt to the novel environments.
This cutting-edge research has also won the Outstanding Prize of the Natural Science Award in Yunnan Province. It has broad application prospects in both forensic medicine and biomedical research.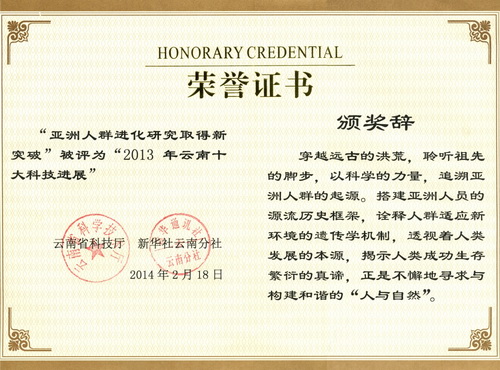 (By Su-Qing Liu)